The Heat Exchanger Ontario Exchange Program is designed to reduce down-time to an absolute minimum. When it is time for service, a refurbished plate pack will be on stand-by ready for immediate installation.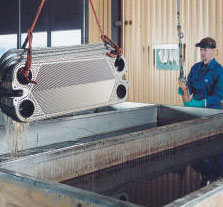 Reduce Down-time Up-time is profitable time.
Up-time is profitable time. Keep your plate heat exchanger up and running with Heat Exchanger Ontario exchange plates. When it is time to regasket, you will have a fresh, reconditioned, regasketed, and ready-to-install plate pack on hand. Down-time is limited to change-out time.

Superior Service Returned plates are put through the rigorous Heat Exchanger Ontario reconditioning and regasketing process. With the exchange program, you can be sure that carefully inspected, reconditioned, and regasketed plates will be ready for your next change-out.


A Simple Program Our exchange program is simple. Exchange our regasketed/reconditioned used plates for your plates that are in need of regasketing /reconditioning. You are charged only for the new gasket and labor to clean, inspect, and regasket your old plate for our next exchange customer.
 

Exchanger Program Provisions:
A customer request is made in advance of a planned change-out. Reconditioned and regasketed plates are shipped to the customer.
Within two weeks the customer returns their used plates to the nearest Heat Exchanger Ontario Service Center.
There are no additional charges except in the event of one of the following circumstances:
        –  The customer fails to return the used plates.
        –  The returned plates are of a different material than those ordered by the customer.
        –  The returned plates fail a dye penetrant test or fail a visual inspection for excessive wear and pitting.
For these occurrences, an appropriate additional charge will be invoiced. 
The exchange program is available for a limited number of plate types. Call us at 289-362-6108 with your inquiries or email us today!