Frame handling is Heat Exchanger Ontario's complete service package.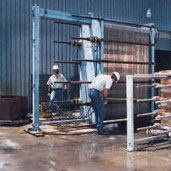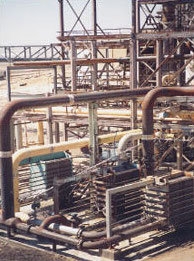 We encourage this level of service. Our highly qualified specialists will take complete control of the job from disassembly of the unit to reinstallation and hydro-static test. The heat exchanger will be inspected for damaged tie bars, cracked liners, and distorted followers. Complete refurbishment of the frame is also available. This includes sand blasting the frame to 'like new' condition, zinc coating for all tie bars or replacement if necessary, and a new coat of paint putting the unit back to 'like new' condition. Liners may be replaced as needed.

Sanitary plate heat exchangers rarely need refurbishment of frame parts but rebuilding of frames is often required and is also part of our offer.