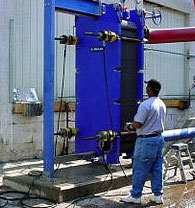 For very large plate heat exchangers with several hundred plates and high pressure units, using any type of manual wrench can be a difficult task. For these units and PHE's that are opened frequently, you may want to consider our hydraulic closing system.
Our system uses four centre hole cylinders, which are positioned at the corners of the moveable frame plate. The system is used to both open and close the heat exchanger. Each cylinder will deliver 60 tons of force with a total of three inches of travel, so your plate heat exchanger is opened or closed 3 inches at a time by the push of a button.

Our system is designed for plate heat exchangers that use 2″ diameter closing bolts with 80mm or 3-1/8″ (across the flats) nut sizes. Our system includes the following:
* One 10,000 psi hydraulic pump complete with pressure gauge and valve manifold.
* Four, single acting, centre hole hydraulic
* cylinders. Four 20′, 10,000 psi hydraulic hoses.
* Four 6″ support plates.
* One nut spinning system, includes cordless right angle drill.
* Two measuring tools.
* Two magnetic tip tape measures.
* Two bolt retaining straps.
* One heavy duty metal storage box.
* One complete instruction book.
Our system can be adapted to work on most heat exchanger makes and models. As a result of the high pressures developed in using our hydraulic system, the most important issue to cover is safety. More specifically, the frame plates must remain as parallel to each other as possible throughout the procedure. The closing bolts must be securely in place and the cylinders must be positioned firmly against the moveable frame plate. The following
accessories are available to ensure that the system operates properly.

Plate heat exchangers use a variety of closing bolt sizes. Shown here are cylinder bore reducers for 1-3/4″ diameter bolts. The bore reducers are installed to ensure that the bolts are centred and to protect the base of the cylinders from damage.
The available sizes are as follows:
* 1-3/4″ (can also be used on 1-5/8″ diameter bolts and M42 metric bolts).
* 1-1/2″ (can also be used on 1-3/8″ diameter bolts and M36 metric bolts).
* 1-1/4″ (can also be used on 1-1/8″ diameter bolts and M30 metric bolts).
* 1″ (can also be used on 7/8″ diameter bolts and M24 metric bolts).
Sold separately as a set of four.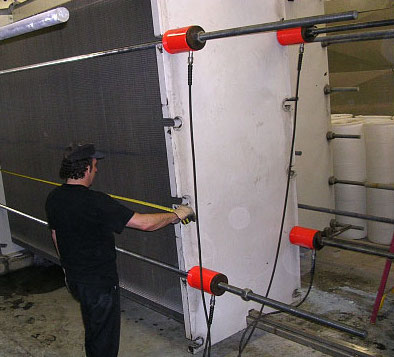 To open and close your plate heat exchanger using our system, position the cylinders against the moveable frame plate with the nuts secured behind them. In order to accomplish this, remove the nuts first, install the cylinders and spin the nuts back on. To help speed up this process, we've included a nut spinning tool, which uses a right angle drill. This quickly spins the nuts off and on the selected closing bolts.
The tool is sized at 80mm to fit most of the larger Alfa Laval models and a 3-1/8″ nut size. Reducing inserts can be installed into the 80mm pulley for smaller nut sizes. The inserts are retained in the 80mm pulley by four M4 x 20mm set screws, which use a 2mm key. The available sizes of reducing inserts are as follows:
* 2-3/4″
* 2-9/16″(65mm)
* 2-7/16″
* 2-3/8″(60mm)
* 2-3/16″(55mm)
* 2″(50mm)
* 1-13/16″(46mm)
* 1-5/8″

Most Alfa Laval models use special locking collars on the frame plates. Our shim kit provides proper bolt alignment and use of our system. Specify 1-1/2″ or 2″ diameter closing bolt size.

The bolt shims keep the locking collars firmly in place, which allows for easier opening and closing.

Other adapter pieces may be required depending upon the design of your heat exchanger.

Our hydraulic closing system can also be used on heat exchangers that use larger than 2″ bolts. This is accomplished by substituting 2″ bolts in place of the larger bolts. We recommend grade B7 (AISI 4140 alloy steel) threaded rod with grade 2H (ASTM A194) nuts (3-1/8″ across the flats) . In most cases, the original bolts will have to be replaced for operation once the final closing dimension is reached.