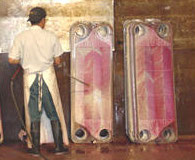 At Heat Exchanger Ontario, we offer a leak detecting service for Hex plates.

Every plate that Heat Exchanger Ontario services is leak tested in order to eliminate any damaged plates. It is extremely important that all plates are tested as 90% of plates tested have less than 10% failure rate. This means that random checking of 10% or even 20% of the plates will not eliminate all bad plates, which potentially could cause cross contamination and more down-time, a very costly affair for any operation.

Our standard leak detecting test is a dye penetrant test where a dye is sprayed onto one side of the plate and a developer is sprayed on the other side of the plate. Despite the fact that this test is very time consuming and the most expensive way of testing, we find it's the most reliable method of finding cracks and pinholes, where even the smallest possible pinhole will be detected.