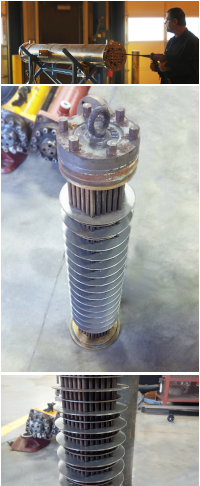 Heat Exchanger Ontario supplies a wide range of shell & tube heat exchangers. As a standard product range we offer fixed tube bundles in sizes from 2" to 24" in shell diameter. Straight tube removable tube bundle in sizes from 8" to 20" in shell diameter, and U-tube fixed and removable tube bundles in shell diameter sizes from 3" to 8".
In addition to the standard product range we can offer special custom designed units as large as 6 feet in diameter and 20 feet in length in the quality material you need from carbon steel and stainless steel to titanium.
Since the heat demands of a process are not constant, and the heat content of the two fluids is not constant either, the heat exchanger must be designed for the worst case and must be controlled to make it operate at the rate required by the process at every moment in time. The heat exchanger itself is not constant, Its characteristics change with time.
The most common change is a reduction in the heat transfer rate due to fouling of the surfaces. Exchangers are initially oversized to allow for the fouling which gradually builds up during use until the exchanger is no longer capable of performing its duty. Cleaning is our speciality! Once it has been cleaned, it is again, oversized.